What should you do to get these Custom Engine Wiring Harness or other wiring harnesses?
Our mission is to provide individual customers and companies with Custom Engine Wiring Harness solutions to help customers win the global competitive market by providing excellent technology and high-quality products at a total effective cost.
Tell us what vehicles you or your customers need and all the detailed information contained in these engine wiring harnesses.
Start with a high-quality fuse box, then create and modify the wiring according to your needs. The customized, fully integrated wiring harness will be manufactured to your exacting specifications.
You will receive a kit that is very simple to install and you can "plug and play" directly.
For example, if you need to integrate an alarm into a wiring harness, you only need to plug it in, without cutting, splicing or looking for wires.
You don't need to figure out how to install the alarm, how to set the door lock relay, how to set the dual battery switch relay, or even worry about the radio wiring.
Everything will be set up, so all you have to do is connect the wires to their respective locations, and under normal circumstances, just plug in the components. It's that simple!
For individual customer customized solutions, if you have already purchased the new wiring harness to be used, no problem. Not only will you receive everything you need, we will also delete everything you don't need. When assembling the wiring harness, all unnecessary wiring will be eliminated to achieve a neat and clean installation. For example, if you upgrade to a single-wire alternator, the pre-wired harness of the alternator voltage regulator will be removed to get a super clean look under the hood!
Any and all necessary parts will be provided, whether it is a relay or an alarm. Depending on your requirements, you will receive different options. If you have a specific brand component that you want to use, please let us know. If you have purchased parts, as long as the parts are brand new and complete, you can also accommodate them.
In many cases, we need your old harness as a reference for length and component placement.
Please do not hesitate to contact me for answers or suggestions. With my wealth of knowledge and creativity, I can provide you with great suggestions for options you might never have thought of.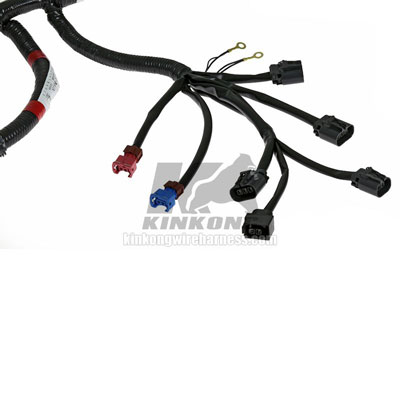 Custom Engine Wiring Harness is the lifeline of the vehicle
In the high-performance original equipment manufacturing Engine Wiring Harness (OEM Engine Wiring Harness) market, there is always a need to make the Engine Wiring Harness more reliable, smaller, and with higher electrical performance. These environments usually require continuous and consistent harness performance and cannot tolerate non-operation. These wiring harnesses are called Category 3 and are used for vehicles operating in harsh and unforgiving environments.
OEM Engine Wiring Harness manufacturers are looking for wire and cable harnesses that can withstand vibration, wear, dust, and high humidity environments. The shrink wire in the rigid harness helps reduce electrical shorts in the Engine Wiring Harness. Flame retardant overmolding reduces the risk of electrical fires and keeps moisture away from wires and cables to prevent corrosion. By sticking the wiring harness to the chassis of the vehicle, this helps prevent vibration and cable wear caused by vehicle movement.
KINKONG can construct very simple harnesses or extremely complex harness systems with hundreds of harnesses. The custom wiring harness is specified in accordance with the strict specifications of the IPC/WHMA-A-620 standard or according to the customer's wiring harness requirements.
In the first stage, carefully record the cable tooling requirements, wiring harness sequence and test procedures to ensure that the structure of each wire assembly is the same. Part of the company's advanced wiring harness system includes computerized wiring harness instructions on each workstation to guide our wiring assemblers through the wire construction process. In addition, the system allows us to track production in real time during the product manufacturing process.
For each of our employees, every procedure they perform has received intensive training. During the production process, the wire will be cut and prepared on extremely reliable high-speed custom wire processing equipment to ensure consistent length tolerances and compliance with customer specifications. All crimping terminals are performed on a tool designed specifically for that specific contact. Where possible, perform other operations on automated equipment, such as peeling and peeling, to speed up the process, optimize production and ensure that the components are cost-effective during installation.
The technicians carefully check all customized drawings and wire specifications during their work to ensure that all elements required for manufacturing are included and all materials are clearly defined. If details are missing or need to be determined, our well-trained technicians will work with the customer's engineering department to determine before custom builds.
In addition, our technical sales staff provide design/engineering support to speed up the connector development process and help ensure that the components are best suited for the application. The manufacturer will determine that the final design is as cost-effective and painless as possible without sacrificing quality products.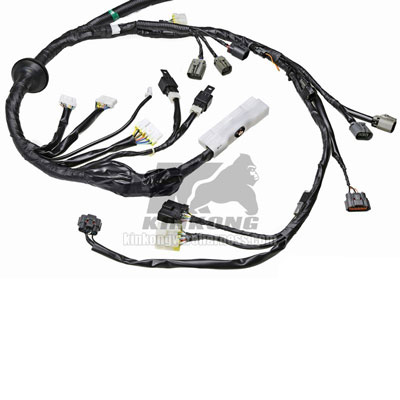 Custom wiring
Every custom wire we manufacture undergoes 100% electrical testing to ensure that the wiring harness wiring is completed correctly and the termination application is correct. In addition, the company has equipment for HiPot and will test other components that may be incorporated into the wiring harness, including fans, diodes, LEDs, resistors, and capacitors.
Technical cable applications create value for every wire harness product manufactured. Known for providing the best service, cables, on-time delivery and very competitive prices.
Our wiring manufacturing employees have passed the IPC/WHMA-A-620 REV C certification.
We have obtained UL/CSA certification for wire assemblies.
If you need a full evaluation of the engine wiring harness requirements, please contact KINKONG immediately.